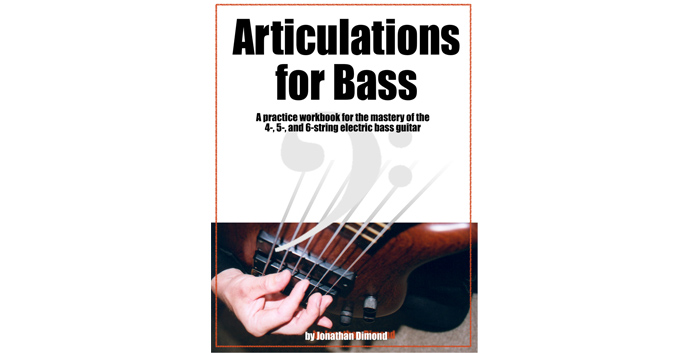 INTRODUCTION
A practice workbook excerpted from my book
Bass Riyaz
, which concentrates on developing articulations for the bass guitar. The term "Riyaz" comes from India where it means the all-embracing art of practice, with all its associated ritual, discipline, teacher-mentorship and sheer hard work.
ABOUT "ARTICULATIONS FOR BASS"
This book is a 67-page e-book. The book is available for download via Lulu.
REVIEWS OF BASS RIYAZ

" Jonathan Dimond has put a lot of thought into this book. He covers a lot of ground practically and conceptually, and presents it all in a very organized fashion."
Reviewed by John Patitucci. (January, 2006)

"In a world completely lacking decent educational materials based on the subject of the electric bass, this workbook is a welcome present for anyone wishing to improve their skills as a bassist. While reading through the 18 chapter, 289 page book, I couldn't help wonder how long it must have taken Jonathan to put it together. A little research gave me my answer: eight years. It covers conventional subjects such as warming up and chord/scale relationships but also dives into other subjects that you will not find anywhere else. You will find a chapter dedicated to polyrhythms, paying special attention to the "Yati," an Indian polyrhythmic technique. Other chapters of interest focus on various topics such as motivic development, ear training, microtonal notation and natural and artificial harmonics. From basic subjects such using a metronome and performance pointers to complex ones such as syncopation and polyrhythms, this workbook is something you can use for years and years regardless of your current playing level. Filled with examples, photos and transcriptions, it is very well worth the price. No subject has been left uncovered."
Reviewed by Chris Juergensen, Director of Education – Tokyo School of Music, Abiku Records recording artist. (September, 2005)

"I looked at your book and was thoroughly impressed with this vast body of well researched work. This work is certainly a great addition to the knowledge base of the modern bassist."
Reviewed by Kai Eckhardt. (July 2006)

"Those of you who know me, know that I have been a long-time "bass book geek". I have an exhaustive collection of some of the best (concept, user-friendly, real lessons) bass books that have been published over the past 25 years. Having said this… I have finally found Bass Riyaz, written by the incredibly visionary bassist/multi-instrumentalist Jonathan Dimond. Jonathan gently guides the music student through the potentially dangerous musical maze beyond Western Music into the fertile environment ofrealWorld Music! By following his caring guidance the student will learn the importance of counting methods used in Indian Classical music and how to apply them to deep, cyclical grooves. Within a week of studying this book, it had become my momentary favorite – toppling the hierarchy of several books I have faithfully studied for YEARS! This is deep learning, folks! Very few music books (let alone bass books) are written as well as Bass Riyaz! I found myself drawn into the lessons almost immediately, and I continue to enjoy my time in this cool and peaceful learning place.

If you, as an ever-seeking music student, need to locate the next important juncture in your development… I strongly recommend Bass Riyaz. I contend this book is the "next greatest thing" in learning a deeper meaning of groove! Check out Jonathan at this website!"
Reviewed by Brent-Anthony Johnson. (June 2007)